Highlights
Superconducting monolayer deposited on substrate: Effects of the spin-orbit coupling induced by proximity effects
The spin-orbit coupling can lead to exotic states of matter and unexpected behavior of the system properties. In this paper, we investigate the influence of spin-orbit coupling induced by proximity effects on a monolayer of superconductor (with s-wave or d-wave pairing) placed on an insulating bulk. We show that the critical temperatures Tc of the superconducting states can be tuned by the spin-orbit coupling both in the case of on-site and inter-site pairing. Moreover, we discuss a possibility of changing the location of the maximal Tc from the half-filling into the underdoped or overdoped regimes.
Phys. Rev. Materials 2, 024801 (2018), arXiv:1801.08055
---
Ab initio study of the unconventional superconductivity in CeCoIn5 and FeSe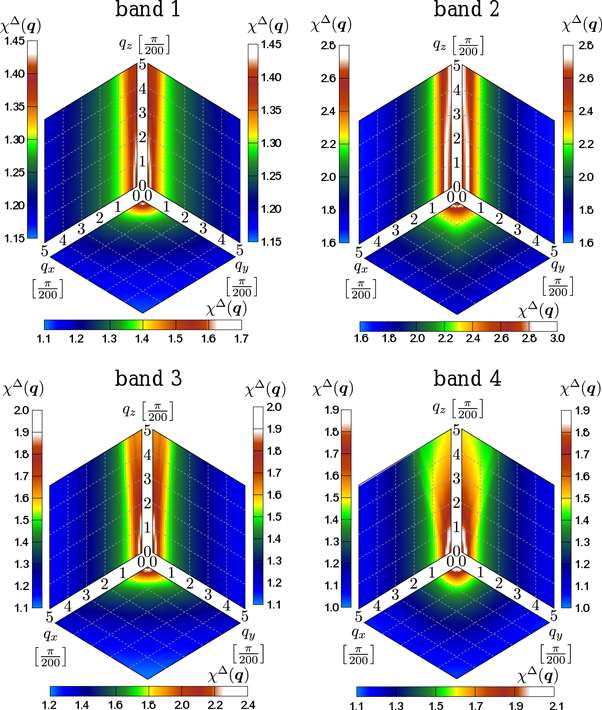 The electronic structure and the shape of the Fermi surface are known to be of fundamental importance for the superconducting instability in real materials. We have demonstrated that such an instability may be explored by the static Cooper pair susceptibility renormalized by pairing interaction and present an efficient method of its evaluation using Wannier orbitals derived from the ab initio calculation. As an example, this approach is used to search for an unconventional superconducting phase of the Fulde–Ferrell–Larkin–Ovchinnikov (FFLO) type in a heavy-fermion compound CeCoIn5 and an iron-based superconductor FeSe. The Cooper pair susceptibility calculated at each band crossing the Fermi level in FeSe for momenta at the xy, yz, and xz planes and at the magnetic field H = 20 T is presented in the figure. The results suggest that the FFLO superconducting phase occurs at finite magnetic field in both materials.
New. J. Phys. 9, 0633039 (2017), arXiv:1710.01988, Video abstract
---
Vibrational properties and stability of FePt nanoalloys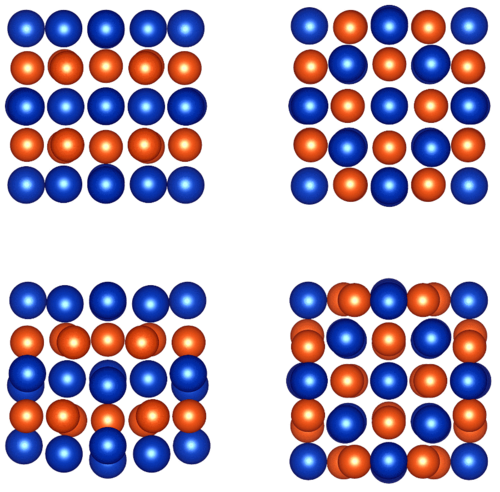 The structural and dynamical properties of FePt nanoparticles were studied within the density functional theory. The effect of size and chemical composition on the dynamical stability of nanoparticles was investigated for the cuboctahedral and icosahedral symmetries. In cuboctahedra, a structural distortion is observed, which for systems with odd number of Pt layers leads to lowering of the tetragonal symmetry (see the figure). The soft mode, which lowers the symmetry is presented in this animation of the vibrations of atoms in the Fe24Pt31 nanoparticle. Significant differences between the vibrational properties of FePt particles and bulk crystals are observed, but similarly to the FePt crystal, cuboctahedral particles exhibit a strong anisotropy of atomic vibrations. The icosahedral particles with perfect shell geometry are unstable due to enlarged distances between Fe atoms. They can be stabilized by removing a central atom or replacing it by a smaller one.
Phys. Rev. B 95, 134303 (2017), arXiv:1704.04056
---
PhD positions
---
We have open positions for PhD students in the field of computational material science. The PhD work will be guided by the professors of the Department and will be focused on computational investigation of crystals, nanostructures and surfaces.
Research fields
---
Our reasearch activity focuses on solid state properties of a broad range of materials including bulk crystals, nanostructures, surfaces, and disordered systems. The main fields of our research include:
the basic structural, electronic, and phonon properties of crystals
phase transitions
electron-phonon interaction
phonons in multilayes, thin films and surfaces
thermodynamic and elastic properties of minerals
lattice dynamics in strongly correlated systems, superconductors, molecular crystals
shape memory and disordered alloys
Current projects
---
Magnetostructural phase transition in MnAs
Disordered hydrogen dynamics in Mg(OH)2
Lattice dynamics in actinide compounds (URu2Si2)
Verwey transition in magnetite (IXS, NIS)
Structural and electronic properties of defected SiC crystals
Phonon properties of FeO crystal and thin films