Highlights
Electronic and dielectric properties of FeO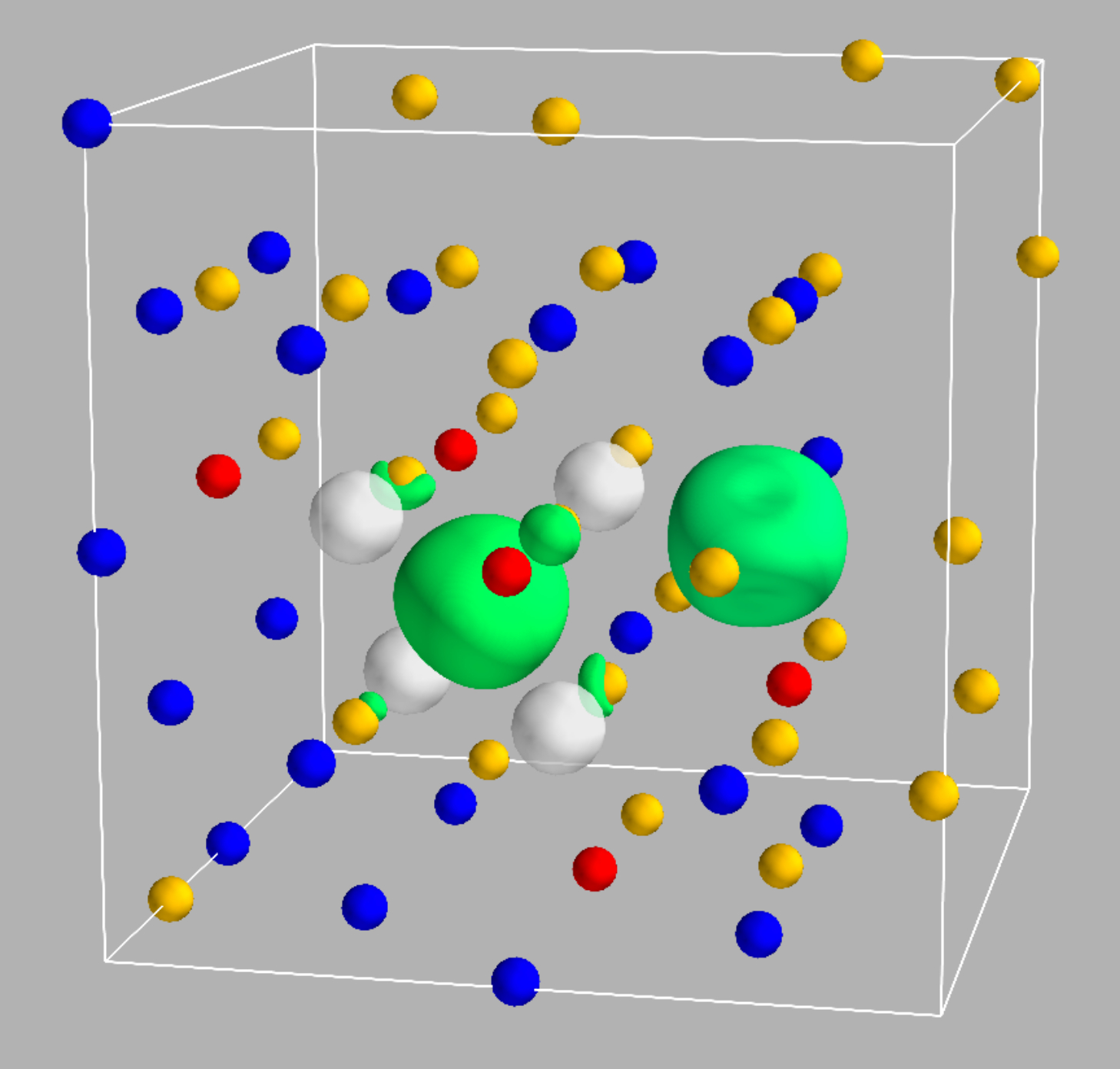 Wustite (FeO) has challenged experimental and theoretical condensed matter physics for over sixty years. In particular, the extent of its nonstoichiometry and its defect structure have been the subject of numerous experimental studies and are still a matter of discussion and a source of controversy. Generally, these studies indicate that the crystal lattice of FeO is modified by the presence of Fe(3+) cations and vacant Fe(2+) sites. The crystal structure and charge distribution in FeO are very complex as the defects are likely to coalesce and arrange into clusters, which in turn can aggregate into larger defect structures. This work investigates the role of strong electron correlations on Fe atoms and the high concentration of cation vacancies in modifying the electronic and dielectric properties of wustite. As we have shown, both of them influence substantially the electronic properties of this compound and have opposite effect on its band structure. While the local electron interactions in the Fe 3d states are responsible for the opening of the insulating gap, the Fe vacancies reduce its magnitude.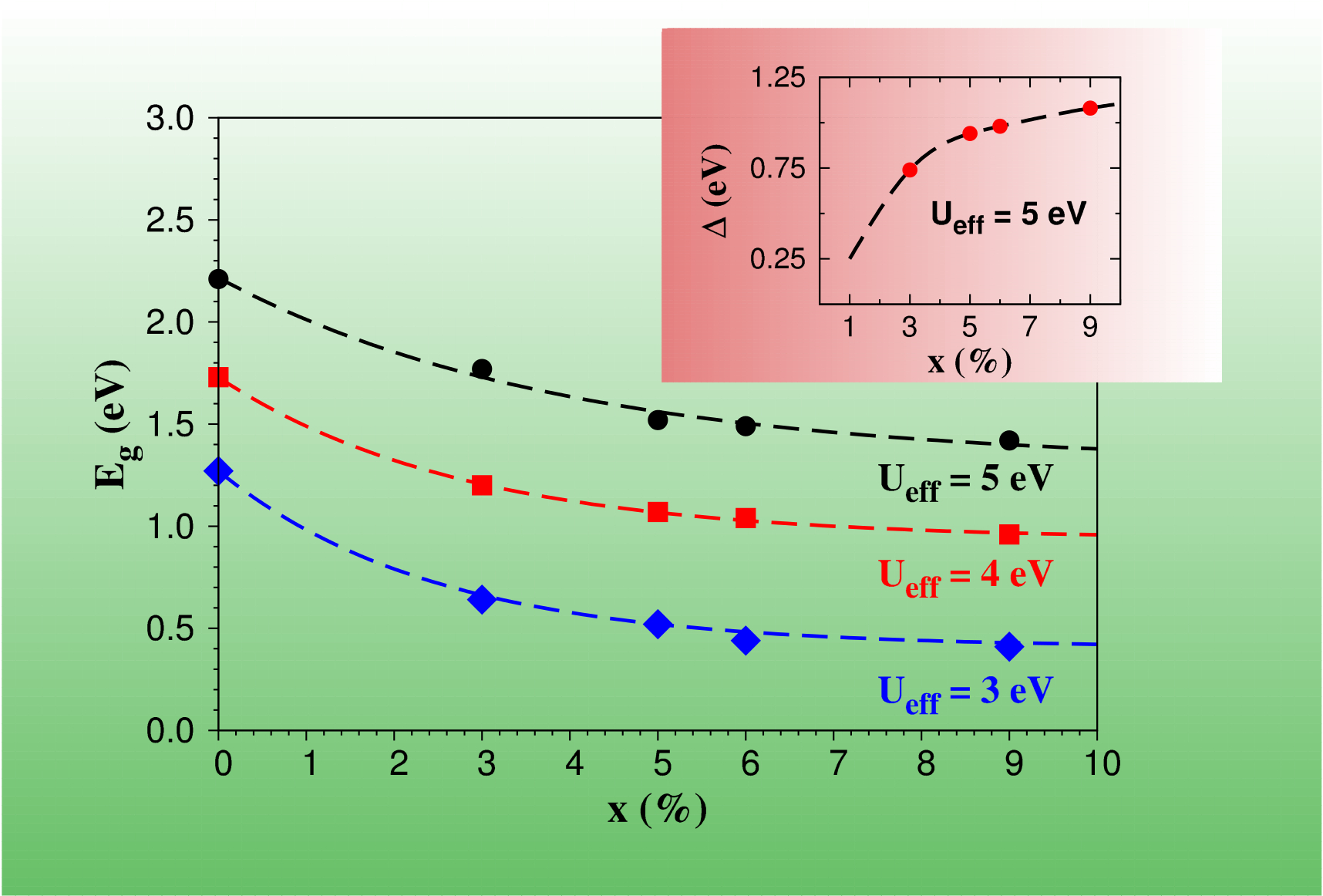 The mechanism of gap reduction remains the same, irrespectively of the type of incorporated defects. Either monovacancies or vacancy clusters induce the band of empty Fe(3+) states inside the gap of the perfect FeO crystal. The width of this band increases monotonically with the increased concentration of cation vacancies reducing the distance from the top of valence states, so effectively diminishing the band gap. We discuss the effects observed in the optical properties of wustite and explained them by the presence of defects. Our studies also explain the anomalous broadening of infrared spectra, demonstrating a strong effect of cation vacancies on phonons in wustite.
Phys. Rev. B 91, 195111 (2015) arxiv.org
---
Structures of Late Transition Metal Monoxides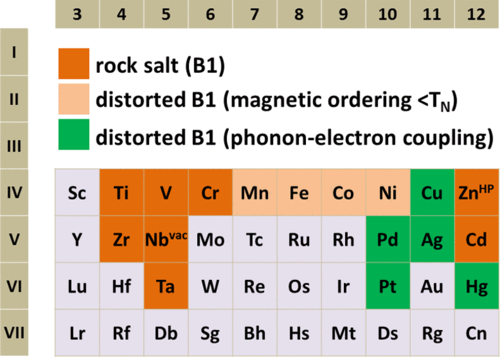 Transition metal monoxides i.e. chemical compounds of the formula MO are often found in nature and they have been used as early as in Neolithic period for pottery - and later glassware - colouring. These important materials exhibit a great variety of physical properties such as diverse electronic and thermal conductivity, magnetic or optical features, and they find numerous daily life applications. Nearly twenty MOs have been prepared to this day and even more wait to be synthesized. It has long been known that most of them crystallize in the prototypic rock salt (NaCl) structure – either undistorted or only slightly distorted due to magnetic interactions operating at low temperatures. This important cubic structure is frequently found for inorganic compounds, especially ionic ones. But five oxides: those of copper, silver, palladium, platinum and mercury, do not fit the family since they adopt much more complex lower - symmetry structures. Still, do they have anything in common with the cubic ones?
Read more ... Phys. Rev. Lett. 113, 025505
---
Short-Range Correlations in Magnetite above the Verwey Temperature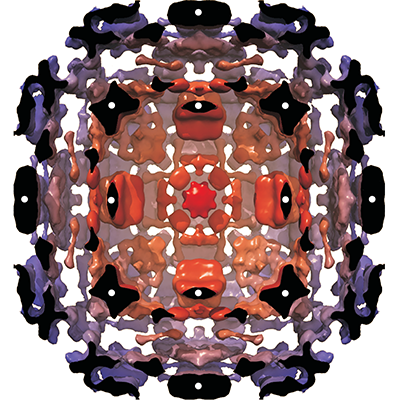 Magnetite is the first magnetic material discovered and utilized by mankind in Ancient Greece, yet it still attracts attention due to its puzzling properties. This is largely due to the quest for a full and coherent understanding of the Verwey transition that occurs at TV=124  K and is associated with a drop of electric conductivity and a complex structural phase transition. A recent detailed analysis of the structure, based on single crystal diffraction, suggests that the electron localization pattern contains linear three-Fe-site units, the so-called trimerons. Here, we show that whatever the electron localization pattern is, it partially survives up to room temperature as short-range correlations in the high-temperature cubic phase, easily discernible by diffuse scattering. Additionally, ab initio electronic structure calculations reveal that characteristic features in these diffuse scattering patterns can be correlated with the Fermi surface topology.
PhD positions
---
We have open positions for PhD students in the field of computational material science. The PhD work will be guided by the professors of the Department and will be focused on computational investigation of crystals, nanostructures and surfaces.
Research fields
---
Our reasearch activity focuses on solid state properties of a broad range of materials including bulk crystals, nanostructures, surfaces, and disordered systems. The main fields of our research include:
the basic structural, electronic, and phonon properties of crystals
phase transitions
electron-phonon interaction
phonons in multilayes, thin films and surfaces
thermodynamic and elastic properties of minerals
lattice dynamics in strongly correlated systems, superconductors, molecular crystals
shape memory and disordered alloys
Current projects
---
Magnetostructural phase transition in MnAs
Disordered hydrogen dynamics in Mg(OH)2
Lattice dynamics in actinide compounds (URu2Si2)
Verwey transition in magnetite (IXS, NIS)
Structural and electronic properties of defected SiC crystals
Phonon properties of FeO crystal and thin films